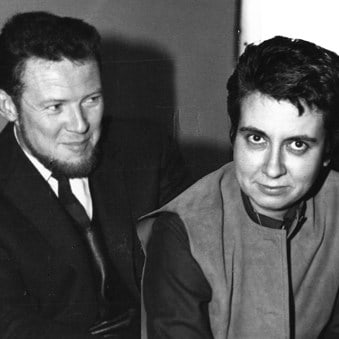 It has been said of Janine Abraham and Dirk Jan Rol that their design collaboration approached the ideal of the 'decorateur a deux tetes'. While the strength of Dutch-born Dirk Jan Rol was structural and architectural, Janine Abraham contributed imagination, invention and fantasy. Meeting at the studio of Jacques Dumond in 1955, they 'clicked' both personally and professionally and showed their collaborative work for the first time at the Salon des artistes decorateurs in 1956. In 1957, they created their own agency.

Their designs incorporate a strong concept of line, space and color with a special characteristic elegance. They are very much a part of the new generation of modernist designers whose work took into consideration the need for mass production of furniture.

Dirk Jan Rol went on to focus more intensively on architecture, and created unique sculptural structures which integrate interior space and nature, using light and materials in an inventive way to celebrate both.